Hello, I'm Shiraz Kuwailid.
I'm a Digital Marketing Specialist.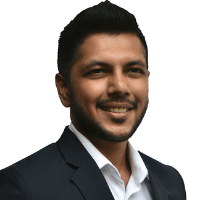 about me.
i'm a digital marketing specialist with a passion for travel and adventure. i have a keen interest in creative campaigns, data analysis + visualization and business development strategies. i speak english, sinhala and tamil fluently, and currently in the process of learning mandarin. my strengths are in digital marketing, seo and project management. i'm experienced in leading cross-functional teams and skilled in communication and creative problem-solving.
---
what i do.
for over 5 years i have been involved in ppc, seo, sem, cro, and lead generation campaigns for businesses. i have expertise in woocommerce, shopify and magento. but i'm also familiar and experienced in other ecommerce platforms. i can help to optimize your business website to maximize leads and conversions. i manage organic & paid campaigns on search engines and social media platforms for businesses while delivering an extremely positive ROAS.
---
certifications.
Google Ads Search Certification
Expires Apr 2022
Credential ID 77306005
See credential »
Google Ads Display Certification
Expires Apr 2022
Credential ID 77306009
See credential »
Google Analytics Certification
Expires Apr 2022
Credential ID 77304565
See credential »
education.
Chartered Institute of Marketing
Postgraduate Diploma in Professional Marketing
2014 – 2017
University of Plymouth
Bachelor of Science (Hons) International Management & Business
2014 – 2017
work experience.
Digital Marketing Specialist
Creately
Jul 2020 – Mar 2022
Senior Executive Digital Marketing
Hayleys Advantis Limited
Jan 2019 – May 2020
Marketing Executive
Dilmah Ceylon Tea
Sep 2017 – Jan 2019
Marketing Intern
Unilever Sri Lanka
Aug 2016 – Nov 2016