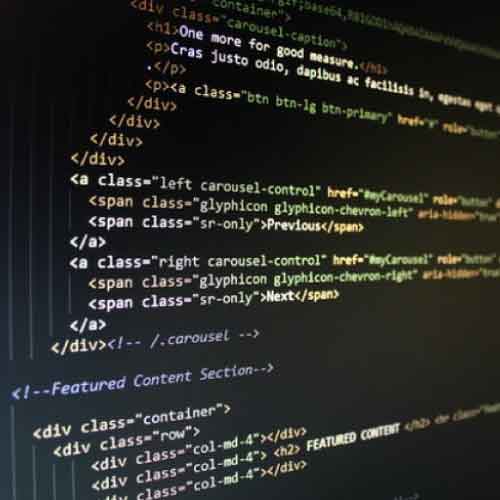 Search Engine Optimization with a new and modern approach
I help businesses get new customers from Google through short-term SEO "Sprints". A simple alternative to expensive and long contracts. Pay for what you need, nothing more.
---
Get the best visibility on Google with Search Engine Optimization!
Most people start their online journey by searching for something – "something" is a need.
Search engines are used to satisfy a need for information, whether it's to confirm when Ceylon became Sri Lanka (in 1972), find a local restaurant, a new CRM system or the perfect dream apartment.
Search Engine Optimization (SEO) is the process of helping your customers connect with your business when the need arises.
How does SEO work?
It all starts with the search engines (like Google). Each search engine sends out search bots to gather all the content and information they can from across the internet to create an index. When a query is made, the search engine algorithm surfs through the index to provide the most important and relevant information in the search results, commonly known as the search engine rankings.
And that's where SEO (Search Engine Optimization) comes into play. Search Engine Optimisation enables us to help search engines understand what's on a website, the value the company has to offer and how relevant it is to key keywords. It's the foundation that drives organic traffic to a website and strengthens all aspects of the digital marketing strategy.
But major search engines are constantly evolving their algorithms and strategies to meet increasing user demands. That's why it's important to maintain a sustainable optimization strategy that continually works.
Scaling up your business with SEO
5.6 billion searches are made every day on Google alone, and with so many competing for the top spots in search results, it's important to be visible. It's through keywords, content and SEO refinement that businesses get the visibility they deserve.
By partnering with an SEO expert, you'll have guaranteed digital success. So whatever your goal is – driving traffic, generating leads, maximising sales, increasing brand awareness – I can help.
---
5.6 billion searches are made every day on Google
Search Engine Optimization isn't just about ranking for popular keywords; it's about being found when it matters most and trying to rank for a topic within your expertise. I research the right keywords and make sure your business gets qualified traffic that converts.
93%
of all purchases and decisions start with a search engine
75%
never scrolls past the first result page on Google
61%
research a product online before making a purchase
---
Are you looking for an SEO expert that can bring you increased returns?
To benefit from an SEO campaign, you need an expert that can carry out SEO work with the highest possible return on investment (ROI). I can do just that.
As an SEO expert, I have developed the perfect combination of transparent delivery. With customized, performance-driven SEO plans, businesses can see the results of optimizing their website, not only on Google but also on company revenue.
Whether it's a local business or an international one, SEO can make you an industry leader.
Customised SEO packages at transparent prices
I develop tailored strategies for every business I work with.
Search engine optimization encompasses a range of SEO techniques, and I leverage each one to help businesses grow and thrive among the competition.
I design SEO services to create results for clients. I help with winning combination of keyword analysis, content creation, competitor analysis, transparent reporting, link building, and data analysis that helps businesses increase revenue.

A modern and transparent Search Engine Optimization (SEO) process
It's important to understand the process of an effective Search Engine Optimization (SEO) campaign. To this end, I have divided the process into four simple steps as shown below and described the activities in each of these steps.
Analysis
When I start an SEO campaign, my step would be to do a deep dive into the company, website, competitors and industry. I don a detective hat and use the data to put together a roadmap of how the website and SEO will work to achieve the company's business goals.
Deep competitor analysis
Website and server analysis
Analyze 200+ SEO factors
Optimization
From IA (Information architecture) to UX (User experience), I make hundreds of changes, both big and small, to the website to help Google better understand what the company is all about. I can also take care of technical SEO, improving website usability, speed and functionality.
Eye-catching titles and meta descriptions
Improve usability
Updating website architecture
Keywords
A thorough keyword analysis is the core of my Search Engine Optimization (SEO) service. The specific keywords I target helps define the target audience and drive valuable traffic. With relevant traffic, your businesses can secure new leads, sales and more.
Competitor keyword analysis
Keyword Mapping Report
Advanced rank tracking
Content
The content of a website is what users count on to educate and guide them through the buying funnel. Whether the website is discussing the company's unique competitive advantages or providing educational content via a blog post, I will provide suggested topics, professional copy and quality content not only to drive up search engine rankings but also business growth. Writing content is hard. It's not exactly my forte. However, I can definitely help you connect with expert content creators. Together we can create and launch a search engine optimized content marketing strategy.
SEO texts that convert
Longform Copy that educates
Informative blog posts that educate
On-page SEO & internal links
Getting relevant, qualified search traffic to a website is just the beginning of my Search Engine Optimization service. I work with businesses to ensure that the website leads visitors through the purchase funnel in a clear and concise manner. I believe in testing everything and making continuous improvements.
Conversion analysis
Calls-to-action improvements
Continuous improvements via ROI tracking
Off-page SEO & link building
Off-page SEO is an important service to help your target audience find your website. I help create new opportunities for website growth by building links (and relationships) with trusted industry experts.
Content distribution
Relevant mentions from blogs/press
Guest blogging

How can a Search Engine Optimization expert improve my online presence?
Search engine optimization (SEO) is one of the best marketing strategies to help businesses improve their online presence, attract more traffic to their website, get qualified leads and higher revenues. That's why SEO is an essential part of a successful business model.
However, SEO is more than just a strategy.
SEO means or describes an umbrella term for many smaller strategies that work together to improve a company's Google (or other search engines) ranking to get more conversions and increased sales.
Some basic SEO strategies that I use in SEO campaigns to optimize websites:
Website SEO review
A website SEO review serves as the foundation for your SEO plan. By reviewing your website, I discover areas for improvement as well as opportunities for your SEO strategy. That's why I start with a technical SEO review before building your plan.
As part of the SEO review, I examine the following:
Website
Google Analytics
Google Search Console
And a little more technical details
To get the best results and key insights into a website, I use a variety of SEO tools and then finish with a manual review. With these resources, I can take a multifaceted approach to provide businesses with a competitive SEO strategy.
Keyword analysis
Without keyword analysis, your company will not rank or appear in the search results that are most likely to reach your target audience. With any online marketing strategy, including search engine optimization (SEO), it's important to tailor all initiatives to the ideal customer.
That's why keyword analysis is crucial to a successful SEO strategy.
It helps businesses reach potential customers by adapting to how they search. Type of content such as a blog post or service page, phrases or language that the recipient uses etc. needs to be optimized to convince readers that the company understands their needs.
This eventually leads to phone calls, store visits, purchases, leads and more.
What is a keyword analysis?
A keyword analysis is a process of examining search volume, competition, intent and cost per click for keywords that matter to your company and industry. When conducted accurately, keyword analysis uncovers valuable insights into which terms to use in title tags, content and more.
Using these key terms in important places on the site helps rank high for them on search engine results pages, which is a great way to get more site traffic and ultimately convert more customers.
Content creation and implementation
Content is what ranks in search engines, so without it, SEO is almost impossible.
Content creation is based on keyword analysis and contains the terms that are considered most important for the company and the industry. Whether it's an online or offline business, content can be used to reach and convert an audience.
There are many types of content, from blog posts to online guides, and all are beneficial to the website.
Here are some of the most popular types of content and how they can benefit website visitors.
Blogs
Google loves new content, so of course, blogs are a great option as they are frequently updated with new content. Blogs are typically short pieces of writing, around 1,000 words or less, that provide a personal insight into an industry-related topic.
Service pages
Service pages are pages on a website that describe the services the company offers. These are beneficial because potential customers want to read about what they are getting before they make a decision. Service pages are a great way to inform visitors about what is included in the service offering, prices for those services and more.
Product pages
Similar to service pages, product pages provide descriptions and images of the products the company offers. These pages inform users about the specific items being sold and include information such as dimensions, colours, sizes, ingredients or materials, etc. They are important because they directly affect sales depending on the information provided.
Long-form content
Long-form content is content that is over 2000 words long and it provides lots of useful, beneficial content to readers on topics related to the industry. The point of long-form content is to be a comprehensive description of a topic and to be the only resource a user needs to fully understand that topic.
With compelling and optimized content, plus specific keyword targeting and search engine optimization expertise, I provide your business with a competitive SEO plan that provides a consistent source of revenue for your business.
On-Page Optimization
On-page SEO is an important part of search engine optimization. Whether it's about being visible in Google (or other search engines, like Bing or Yahoo!), businesses need to optimize their website for on-page SEO factors.
On-page SEO is an umbrella term for the work that takes place on a company's website. It involves factors such as the content, speed and design of web pages.
Now, as your SEO expert, I create a 360-degree approach to on-page SEO by focusing on:
Page speed
If your website doesn't load in three seconds or less, the majority of the users will navigate away from your website to find another website that loads faster. Page speed is an important SEO factor because not only does it help users have a good experience, but Google appreciates it. (if pages load quickly).
Multimedia (text, image, video and audio)
If there are only large walls of text on the site, readers are likely to get bored. Images, graphics and videos are used to avoid this problem and to keep users on the pages for longer periods. When this is used, it facilitates the transfer of information and users become fully engaged with the content.
Responsive on all devices
To ensure that users on smartphones and tablets have the same experience as desktop users, it is important that the website is responsive. This means that images look good on a mobile device and that forms are large enough to fill in – even on a small screen. This is a big plus for website visitors and sends important signals to Google about the site.
Quality of content
Speaking of high-quality content, businesses need to create it to get quality links. Sites that have content with a high word count (Google loves long content), easy readability, fast loading speed and unique information. These together send great signals to Google and help the site rank higher on the results pages.
These are just four of the many SEO tactics I use to optimize a website as part of my SEO marketing services.
Do I need to hire a Search Engine Optimization Expert?
The simple answer is no, you don't have to hire a search engine optimization expert to rank. If you have the time and resources, you can learn how to do SEO on your own and if you are a small or start-up business, I usually recommend that you do the work yourself first. Having a basic understanding of how search engines work will make working together easier and also help you choose the right search engine optimization expert when the time comes. There are many things that need to be evaluated before you decide to hire an SEO expert. It could be that you have done the basic work and now want to take the next step in search engine optimization. It could also be that your industry is highly competitive. Needs can look different and a good SEO expert will listen, understand and present a roadmap before entering into a partnership with you.
Remember that search engine optimization is a complex process and it can take a long time before you start to see positive results in the form of higher rankings. That's why it's a good idea to internally set up "soft metrics" such as communication, KPI, budget and initiative to measure whether your choice of the SEO expert is right for you or not.
Search engine optimization is a process that takes time and at the same time can help you build a successful brand, assuming you find the right SEO expert of course.
I'm an SEO expert who works on the SEO sprint methodology. A simple alternative to inefficient, expensive, lengthy SEO contracts. Pay for what you need, nothing more. My SEO sprints are always between three to six weeks. You know exactly when a sprint starts and ends, what I do during a sprint and why. Contact me for more information.
Why invest in SEO?
If you're searching for your products and services on Google, but all you see are your competitors, it's probably a good idea to consider investing in SEO.
Although it's rarely a quick fix, search engine optimisation can get your business to the top of Google or Bing search results and generate website traffic that leads to enquiries. Well-executed SEO campaigns transform businesses and contribute greatly to your company's growth plans. If you're trying to increase your company's sales, you simply can't ignore SEO.
What is off-page SEO?
"Off-page SEO" (also called "off-site SEO") refers to actions taken outside your own website to affect your ranking on search engines, such as Google.
Optimising for off-site ranking factors means improving the search engine and user perception of your website's popularity, relevance, trustworthiness and authority. This is achieved by other reputable places on the Internet (pages, websites, people, etc.) linking to or promoting your website and effectively "guaranteeing" the quality of your content.
Link building and off-page SEO
Building links is the core of off-page SEO. Search engines use links as indications (votes) of the quality of the linked content, so a site with many good links tends to rank better than an otherwise similar site with fewer links.
There are three types of links, defined by how they were earned:
Natural links
Manually created links
User-generated links
Natural links are provided editorially without any page owner. For example, a food blogger who puts a link in a post pointing to their favourite farm is a natural link.
Manually built links are acquired through intentional link building activities. This includes things like getting customers to link to your site or asking influencers to share your content.
User-generated links are created through methods such as adding a link to an online directory, forum, blog comment signature or a press release with optimized anchor text. Some user-generated link building tactics lean towards black-hat SEO and are frowned upon by search engines.
Search engine optimization is a process that takes time and at the same time can help you build a successful brand, assuming you find the right SEO expert of course.
---
Get your Free SEO Consultation
Book your Free SEO and Digital Marketing Consultation today.
---
Special SEO packages for Plumbers – Here
Special SEO packages for Gas Fitters – Here