I'll be covering how you can say goodbye to long shipping times and the best dropshipping suppliers you should be using in Q4 and in 2021. This isn't about 30 to 50 day shipping at all. We want to make sure that our products can get to our customers in a timely manner. Keep customer ratings and customer reviews high and to be able to create a successful ecommerce brand around this.
I'll be covering 3 suppliers that you can be using right now.
CJ Dropshipping
Experienced dropshippers know really well that CJ Dropshipping is a fulfilment company and it's very similar to AliExpress. They have a variety of amazing products on this platform. All you have to do is just sign up and start a new profile, then login and browse over the entire inventory. However, there's certain cost advantages in sourcing products through CJ Dropshipping. I've been selling few of their hot inventories since Q3 last year with steady margins. One such product was the Arthritis Glove. And from the purchasing trends I have noticed that the sales peak during Q4 – which is why I recommend that you too can use it during Q4 this year. I've attached few screenshots of the Arthritis Glove from CJ Dropshipping and AliExpress.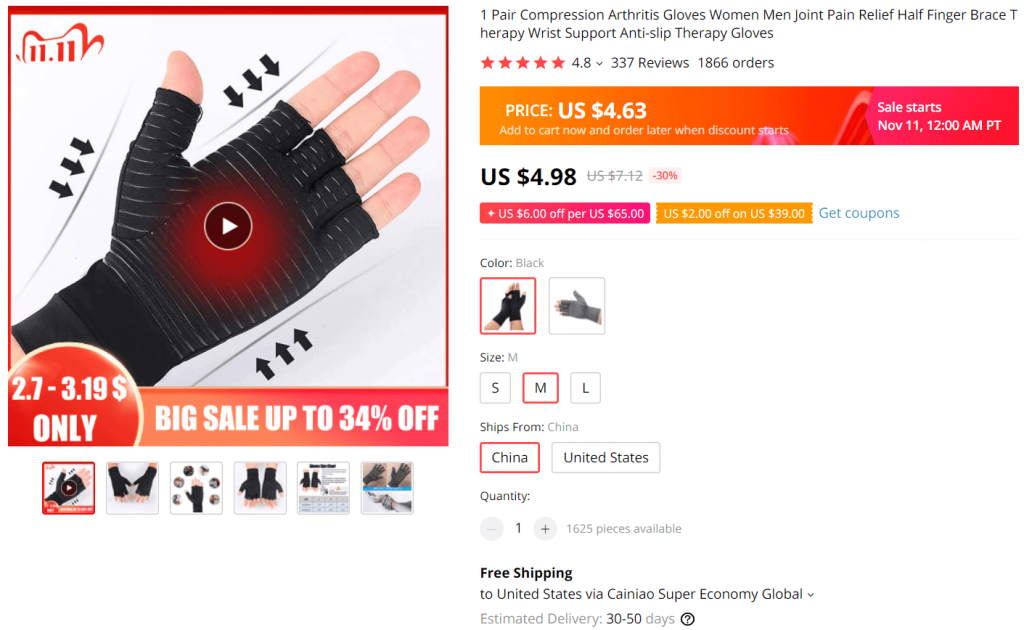 As you can see there's 1866 orders, 4.8 stars, 377 reviews and they are doing really well. But you also might have noticed that the free shipping from China is going to take 30 – 50 days to deliver to the US when shipped via Cainiao Super Economy Global. If you plan to use AliExpress Standard Shipping, that would cost you an additional $3.42 for an average delivery promise of 30 days.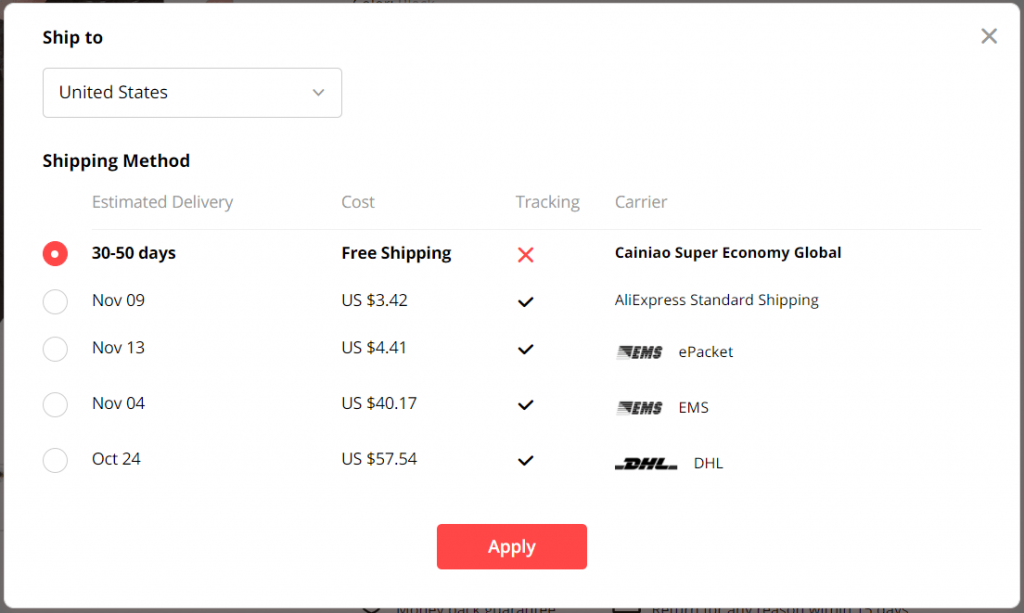 So you too would agree that sourcing an Arthritis Glove for $8.4 will require more overheads for you to market and sell with a margin. Now when we look at CJ Dropshipping for the same product, it's much more profitable in terms of product cost as well as the shipping cost to the US. Although the product might have slight differences in design and specs, the market price and demand is similar.
Unlike AliExpress, CJ Dropshipping's platform offers dropshippers the opportunity to select the inventory lot from which it needs to be shipped. For an example, we can either select the product from the inventory in CJ Dropshipping's warehouse or directly source from the manufacturers factory – no price variations.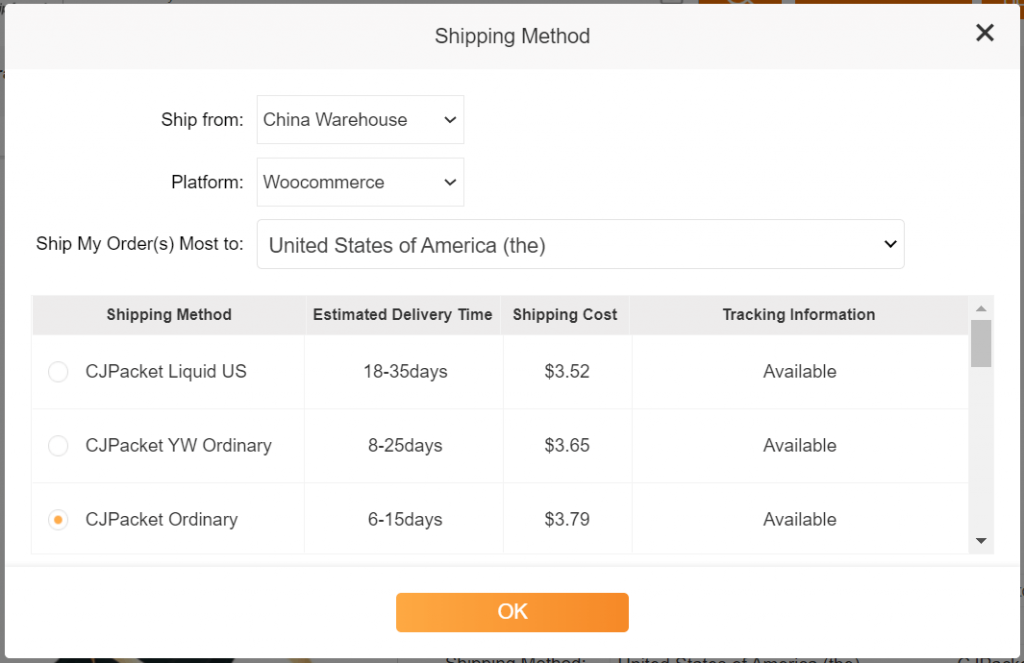 To me the best option is 6 – 15 day shipping for $3.79. So my total cost is $5.09 for an Arthritis Glove. Remember on AliExpress you are paying $4.89 to be able to get this product in 30 to 50 days? In using this supplier, you can outperform competitors by offering faster shipping for competitive pricing. You can advertise the shipping times on your marketing and communication campaigns. So this is definitely one supplier that you can start sourcing from right now.
SourcinBox
I have used this supplier for sometime now and I recommended few of my friends also to try it out. They too are very competitive with their shipping times. However, you will have to create an account first and login to be able to look at their inventory. So after you create your account on SourcinBox, the first thing you need to do is go to the Manage Products section and then click on Marketplace.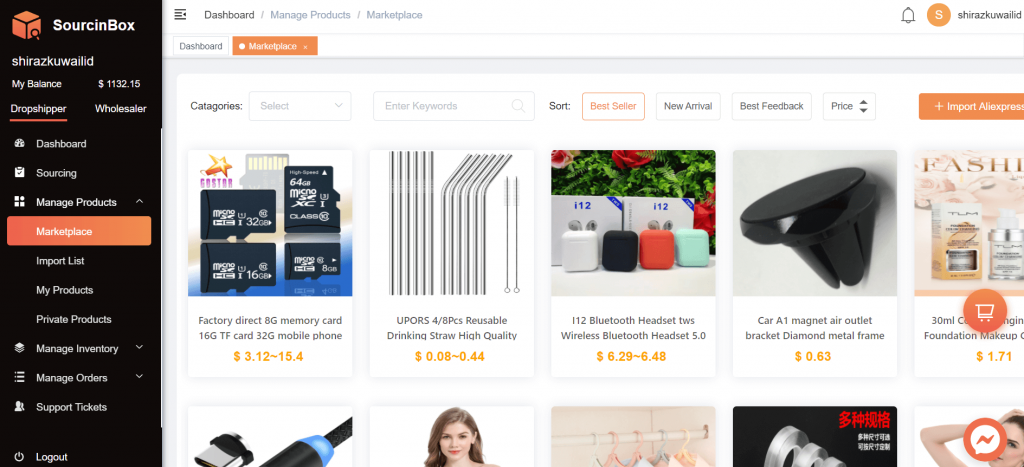 This section displays all the products that they have and also allows you to import products from your AliExpress account as well. Similar to CJ Dropshipping and AliExpress, you're able to browse all the products and categories that are trending and selling fast. So what I recommend is to go through the trends and browse frequently, and you will observe that sometimes the same product appears over and over again (not based on your browser cookies). It's probably a good sign that you should also start selling that particular product ASAP. SourcinBox is a fulfilment company just like AliExpress and CJ Dropshipping. When you explore their platform you'll also notice that they have a separate section for wholesaling items. This feature is ideal for dropshippers who might have long term plans in private label branding with OEM partnerships. But for the start, just make sure the product sells and validate the demand before you buy any products upfront at all. So I recommend you to stick only to the dropshipping feature on this platform if you're currently looking to set up a dropshipping store.
So another amazing feature that SourcinBox has is its ability to do sourcing. So if you can't find the item that you're trying to sell from AliExpress, you can instead take the link from AliExpress and put it in SourcinBox. Then it immediately goes ahead and finds the product and starts selling it. This is an excellent feature since you can get any product you want through this platform. Apart from making it a lot easier for you to source a product, it also makes it easier for you to explore and identify trending products.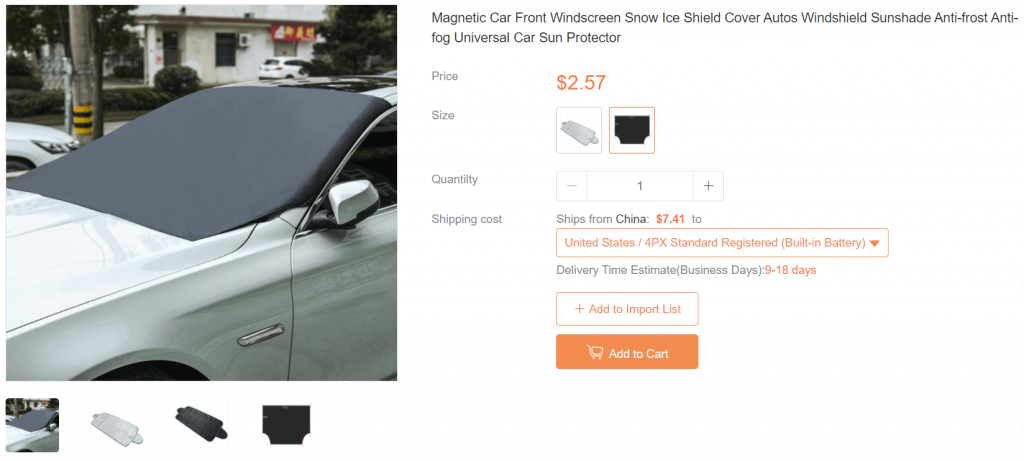 One of the top products that you should be selling in November is this Magnetic Car Shield. It's a hot seller during the winter time and it's currently trending across all platforms. There's two sizes available and majority of my orders were for the upgraded 210cm*210cm. SourcinBox shipping methods are very similar to CJ Dropshipping.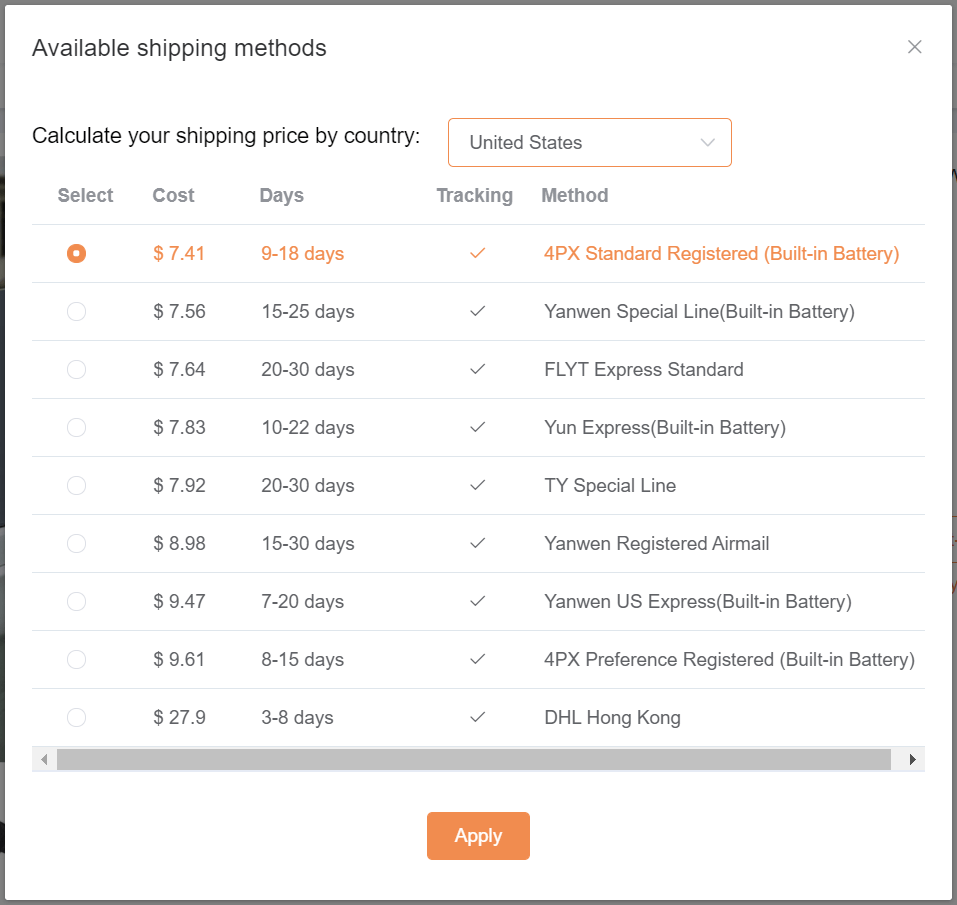 So the shipping method that I recommend to be the most competitive with your profit margin and also be the most competitive with your shipping rates with this product would be 9 – 18 days shipping for $7.41. The market price that competitors are selling this at the moment is around $28 – $30, and you should be able to use the $7.41 shipping and deliver it to the customer quicker than your competitors – whilst enjoying a decent margin from your total cost of $9.98.
AliExpress
You might now be wondering why are we back on AliExpress? Well, you're not limited only to Chinese suppliers – if you didn't know already, there's faster shipping at competitive rates available from suppliers who are in the US. And due to the pandemic there's supply chain disruptions for shipping from Mainland China. Due to this reason, sourcing from an AliExpress supplier who's in the US would definitely provide you with a competitive advantage. After you search for the product on AliExpress, you can put in a filter to view products that are being shipped from the United States.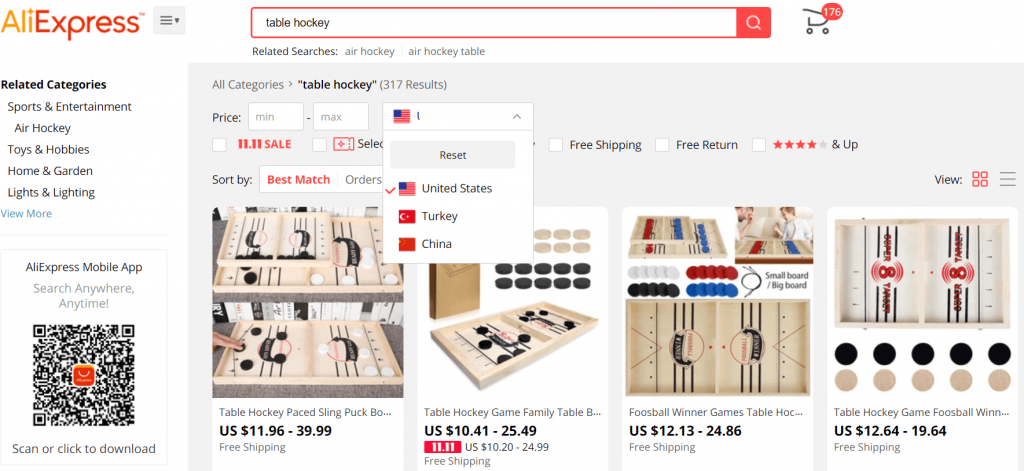 I observed that the Table Hockey board game is trending on most marketplaces and it was pretty obvious with the holiday season coming just weeks away. You can market it as a very interactive family game and you should be able to create a campaign to promote it for Black Friday and Christmas. Competitors market price for this product is between $29.99 – $32.50 excluding shipping. You can do a quick comparison between sourcing from China and sourcing from the US, through a supplier with a high amount of orders and many positive reviews.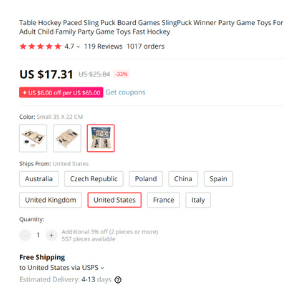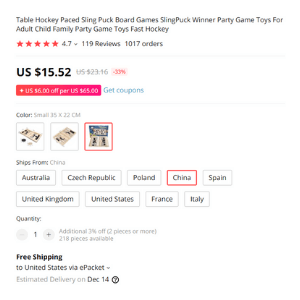 As you can see, that extra $1.79 difference can make a whole impact in cutting down the 30 – 50 day delivery duration to 4 – 13 days. So similar to this example, you can find US suppliers for many product categories that you can get 4 – 13 day shipping for a marginal increase in cost.
Time to start selling
Choosing a product is especially important for dropshippers, as they're not managing their inventory themselves – their suppliers are instead. So finding reliable suppliers who have high-quality product images and provide express shipping for their products is the dream situation. If you are keen to learn more about dropshipping and the best product categories for December 2020, then I suggest reading the below article:
Best product categories for dropshipping in December 2020
That's three suppliers you can use to implement on your stores and reduce the shipping time. Also, the recommended products from each supplier I have mentioned would definitely help you have an edge over your competition in Q4 and in 2021.
Alternatively, if you're interested in exploring opportunities of selling on Amazon, check out my resource on Amazon FBA.
Got any questions? Leave a comment below.