This article is a preview of an eCommerce guide that I am preparing. If you want the PDF as soon as it's ready – kindly fill in the form below and I will send it to your email 100% free of charge.
---
The hard part is not selling on Amazon, the hard part is making money.
Selling on Amazon is not complicated, but selling while making a profit is. In the following article we will see how to sell on Amazon and also make money, because yes, everyone knows how to sell, but doing it in an optimal way, without large investments, without great risks is something different.
E-Commerce or Amazon as a particular case is not very different from traditional trade, but in a fast-paced market, with fierce competition, it is essential to know how to choose a good product, rely on good suppliers and solid logistics. If we want to survive in the Amazon jungle, we must be able to provide quality to the end customer.
If you want to go straight to opening your account, here is a link to the Amazon Seller Central. Here we will see what you should know before starting, step 0, prior to any business.
What is Amazon
Amazon is a leading e-commerce platform, working under the Marketplace modality, allowing external sellers to sell their products through its website. In fact, the majority of sales are from external sellers, although most people think when they make a purchase that they are buying from Amazon directly.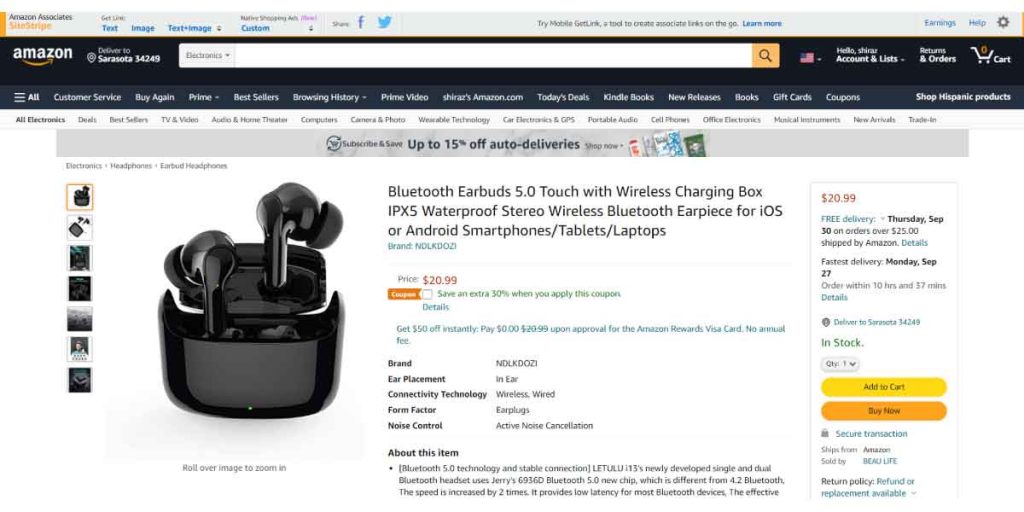 If you are looking to sell on Amazon, here is a step-by-step guide to what you need to do to get started with the e-commerce giant on an operational, fiscal and logistical level.
Amazon operates in quite a few countries around the world, with Amazon USA being one of the main ones, but Europe or Amazon UK, as well as Oceania and Japan, being very popular as well.
Advantages and disadvantages of selling on Amazon
In short, the advantages are that it is a global platform, where there is already traffic and on the other hand the best in logistics.
The disadvantages are that you will compete, as is logical, against all sellers on the same platform, so you can only differentiate yourself by price, by product. Neither customer service nor the platform is having any aspects that you can control.
Another disadvantage is that Amazon is the lord and master of the platform, the guardian of the jungle. You will always depend on their policies, their commissions, their account blocking, product blocking, regulations, and lack of support. Arm yourself with patience because if, for example, they block thousands of dollars in your account just in case, you will only have to wait. And like that there are a thousand cases in which you have to be continually opening cases, appealing, and trying to get someone to take notice and give you a solution.
This is what we are talking about with the Seller modality.
Amazon Logistics (Amazon FBA)
This is one of the central pillars of this business, ensuring speed of delivery to the customer, managing returns and sharing inventory between countries.

It's very powerful to be able to have multi-territory warehousing and that both order preparation and receiving returns is done transparently for you, it allows you to take that task that adds little value out of the equation and delegate it to Amazon. This allows you, for example, to focus on the product, on scaling sales instead of having to prepare orders every day, which when you are just one person can be the difference between scaling a business in a big way or stagnating.
If you want to know more about Amazon FBA, I recommend you check out the following full article:
What is Amazon FBA and how does it work?
Determine the product strategy
You need to find a formula to sell your product. Amazon is currently in vogue among sellers because of the high competition between advertisers in paid campaigns on Facebook or Instagram ADS and Google ADS. They are usually necessary for eCommerce products to sell. Otherwise, what seller in their right mind would be willing to give up such an important margin of turnover and also not have the data of the end customer?
Amazon is a good starting point for example if you don't have your own eCommerce website and you want to try it out without investing excessively in payment campaigns.
Sales formulas
Brand / Own product
If you have your own brand or you are thinking of developing it, Amazon is the perfect place. Why? Because you are the owner of the brand, you are the one who has control of the listing and therefore you eliminate all competition and price control by other sellers.
And you will say! Are you crazy to make your own brand or product?
There are formulas such as white label whereby a factory produces under your brand and you take care of the distribution.
The costs are really low, you only need to register a brand with the patent and trademark office, and make a large enough run (MOQ) for the manufacturer to make it worthwhile.
Brand / Third party product
In this case, if the product is already listed on Amazon we can publish it and if our price is better and we follow the recommendations we will surely win the buy box. Problem? our competitor will also lower the price and so on and so on until one decides to sell at a loss to liquidate the stock or cannot lower the price any further.
You could make an exclusivity agreement with the manufacturer to manage the online sale, so you can be successful, but this can only work if you are a small medium-sized manufacturer that does not have its own resources to manage it.
How to win the Buy Box
The buy box is Amazon's buy box, they show by default the best seller according to an algorithm that combines several factors, and underneath we will see other sellers.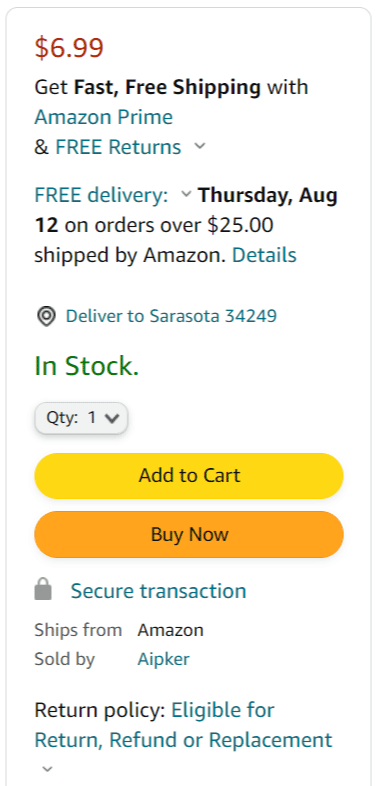 Most sales come through the BuyBox, so if we play on a product where there are several competing sellers, it is in our interest to have the buy box. Points you should check if you do not have it: is your product in Prime? Do you have a competitive price? Do you have a low ratio of defects or complaints? Do you have a good transaction history?
Who's paying for the party? Selling commission rates and costs on Amazon Seller.
Amazon is not exactly an NGO, it charges us to breathe, to sell, to store, to ship. At the end, who pays for the party? The seller
For the customer, it is usually all very nice, free shipping, free return, exchange without problem, customer service, but in the end who eats all that cost is the seller, directly or indirectly.
Let's take a look at a summary of the different costs of an Amazon account,
Monthly rate
In the case of professional account.
Tariff by reference
Depending on the category, a sales commission is charged.
Rate per shipment.
Depending on size, whether domestic or international.
This varies quite often. There are bonus programmes such as Small and Light.
Storage fee
According to volume.
Payment is based on the volume we occupy in the warehouse, depending on whether it is low or high season.
Amazon PPC Advertising
This works like other advertising marketplaces, based on bids. The more people want to pay for that keyword, the higher it goes up.
Shipping costs to your warehouses
Let's not forget that in case we use Amazon FBA for storage and shipping, we will have to pay for the shipping of the products from our warehouses or factories to Amazon's warehouses or factories. We can use a carrier from the list of accepted carriers, one that has a partnership with Amazon such as UPS with reduced rates.
For example, a standard domestic box is under 5€. In the case of International or more sizes/boxes, the rates go up.
In the case of pallets, or whole trucks, the party is different.
Other indirect costs
Product returns, account blocking, balance withholding, cost of customer service, accounting and taxation in terms of VAT, company. Customs, cost of transporting the product from the factory.
In view of the above, you should first make a plan and get the numbers right before embarking on the adventure of importing a container of products that you don't know if they are going to sell.
Amazon ADS PPC Advertising Campaigns
Amazon's PPC platform allows sellers to bid to force their products to appear in a search, category, or as a recommendation of another product.
Some time ago it was a fairly untapped market, as was Google Ads, Google Shopping in its day, but today, due to the boom in sellers, bids are starting to rise in almost all categories.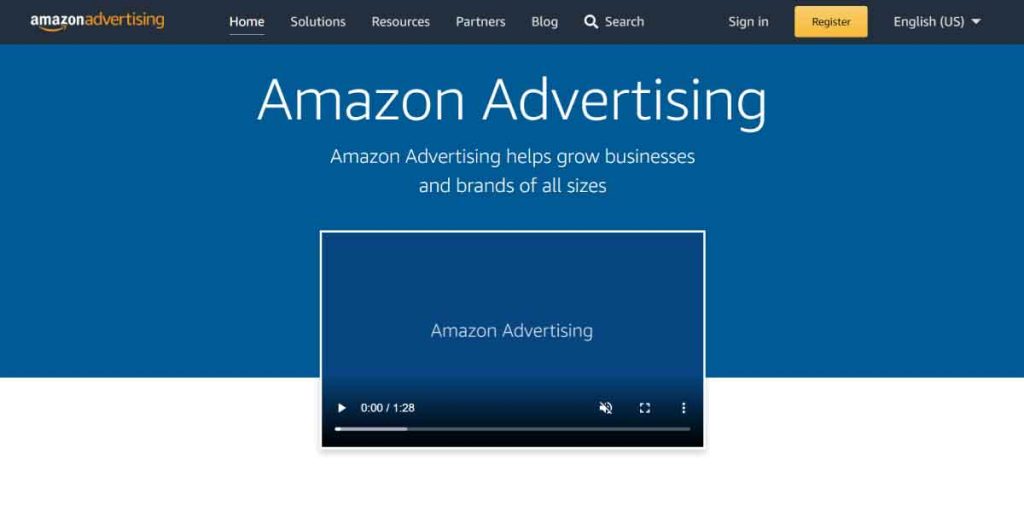 There is an alternative, which is the possibility to create an actual brand along with product ads with video. It converts really well.
We also have the option of bringing traffic from outside the Marketplace, for example, Newsletters for customers through email marketing, or traffic from affiliate or non-affiliate websites that recommend our product, as well as other paid campaigns.
---
Planning to take your products international through Amazon?
If you're based in a country that doesn't have an Amazon marketplace, but you have plans to sell your product on Amazon – I can help you with the solutions.
Contact me and we can discuss the strategy.