Discussions are intense and concerns are high in the privacy war between Apple and Facebook. In July 2020, Apple reported new guidelines for apps that were expected to take effect in January 2021. Facebook already warned them about the impact of ITP (Intelligent Tracking Prevention) that was embedded in iOS 14 updates and how it affects Facebook's ability to show ads through its Audience Network to iPhone users.
In particular, app developers have been affected by information requirements about their data collection processes via Apple's App Store Connect, and requirements to use a specific ad network API (SKAdNetwork). This is needed to offer in-app advertising while enabling advertisers to both measure campaign performance and maintain user privacy on iOS devices.
With the remainder of Apple's guidelines now in effect, Facebook will need to request permission through Apple's AppTrackingTransparency framework to track conversion events that occur on all devices with iOS 14 updates on the web as well.
Facebook will treat app-to-web campaigns with the same privacy protections as app-to-app campaigns, hence there will be a smaller amount of data that can be received, as well as restrictions on what an advertiser can use that data for.
So to accommodate for less data being processed, Facebook needs to make significant changes to marketing feeds on both the app and the web.
Apple's new iOS 14 updates are the latest example of how the digital advertising ecosystem can change rapidly.
How does Apple's AppTrackingTransparency framework work?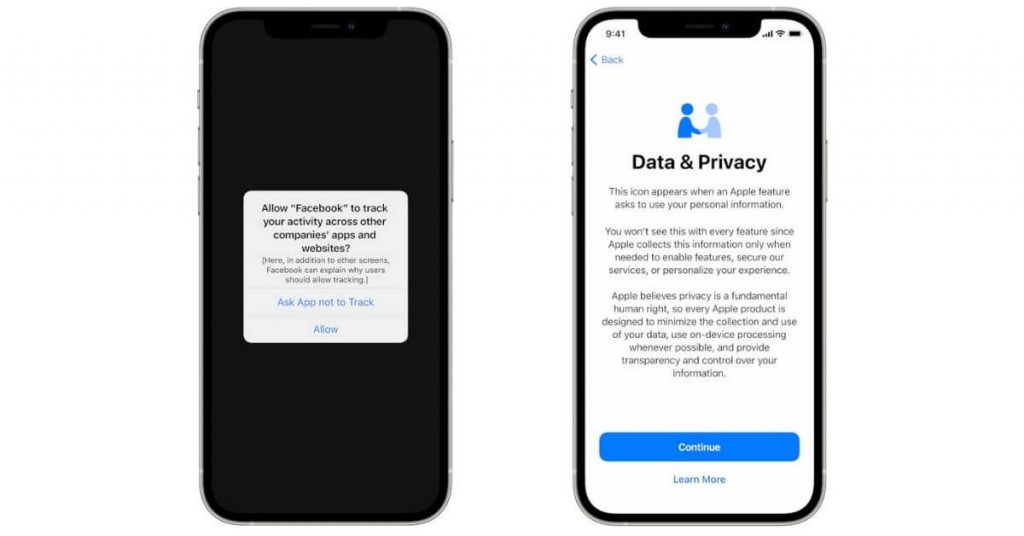 Users on devices with iOS 14 updates will see a clear box of information about how a specific app – Facebook in this case, is requesting permission to track the user across apps and websites owned by other companies in order to deliver personalised ads.
If the user accepts this, "opt-in", no changes to the use of data will take place. However, if the user chooses to "opt-out", the use of the data will be restricted.
In order to adhere to Apple's guidelines, Facebook's attribution of web events will henceforth be governed by aggregated metrics that restrict, aggregate and delay conversion event/event reporting (aka: restricted, aggregated and delayed data)
ALL advertisers will be affected
Facebook described in a webinar with information about the new updates that Ads Manager will be changing.
"This will result in changes in Ads Manager. We aren't going to develop two different advertising systems, one for Android and another for Apple. Therefore, some products and functionalities will no longer be supported. So we had to make a choice that enables the entire system to operate under restricted, aggregated and delayed data."

Action to Take Prior Apple's iOS 14 Prompt Enforcement – Webinar
Facebook and other platforms now need to use a framework that affects how conversion events are received and processed from tools such as the Facebook Pixel.
The updates to Facebook's campaign tools will impact tracking, optimisation and measurement of data from in-app and mobile web campaigns. So it will affect all advertisers more or less, not just those marketing to iOS 14 devices.
What does this mean for Facebook's advertising tools?
Advertisers will be limited to using eight conversion events per domain, including both standard events and custom conversions for optimization. Advertisers should rank these events in 1 to 8, as for all users opting out of the ATT (AppTrackingTransparency) framework, only one event will be recorded, the highest-ranked one. Facebook plans for advertisers to get some reporting in Ads Manager and Events Manager for additional events outside of the priority 8 events. And Facebook will offer the ability to use events outside of the priority 8 events to create site-specific audiences. A new section in Event Manager is available where you can edit your conversion events.

When you enable value optimisation, the selected conversions are automatically included as part of the total of eight ranked conversion events that can be used for optimisation. However, due to the aggregated measurement for iOS 14 users, it may have limited attribution of the events completed, and therefore also make it difficult for Facebook to calculate ROAS on your value-optimized campaigns.
Due to ongoing tracking changes, Facebook is also discarding some attribution windows in terms of conversion tracking. Only 7 days of click-based and 1 day of view-based attribution will apply to all conversion campaigns, and you can expect to see a lot of changes as an advertiser in terms of fewer conversions reported with these new attribution rules.
Advertisers using dynamic ads for retargeting will also see performance and audience size decrease. Most custom audiences created based on events on the site will be expected to decrease due to the loss of some events from iOS 14 users.
How will it affect measurement and reporting?
According to Apple's new guidelines, this places restrictions on the measurement of certain web conversion events due to reporting limitations from iOS 14 devices in Ads Manager and Ad Reporting.
Website conversions will be reported based on the time of the conversion itself and not when the ad was served. In addition, there may be a 24-48 hour delay when an off-site conversion is reported from an iOS user.
Once the changes go into effect, the attribution window for all new or active ad campaigns will be set at the ad set level rather than the account level. With the changes, reporting of 28-day click conversions, as well as 7 and 28-day view-based conversions will not be supported for campaigns created after the implementation of Apple's new guidelines.
However, inactive campaigns will still report with the older attribution window at the account level, and historical data for attribution windows that are no longer supported will continue to be available via Ads Insights API.
Delivery and behavioural data is also not supported in reporting for off-site conversion events, this includes demographic breakdowns such as age, gender and region.
There are many questions but no definitive answers
Work on managing Apple's new guidelines is in full swing and Facebook informs that updates will be rolled out on an ongoing basis.
Read my iOS14 Checklist for Facebook Advertisers
Contact me for help with your Business Manager updates and campaign management.